Cheval des Andes, the Grand Cru from the Andes mountain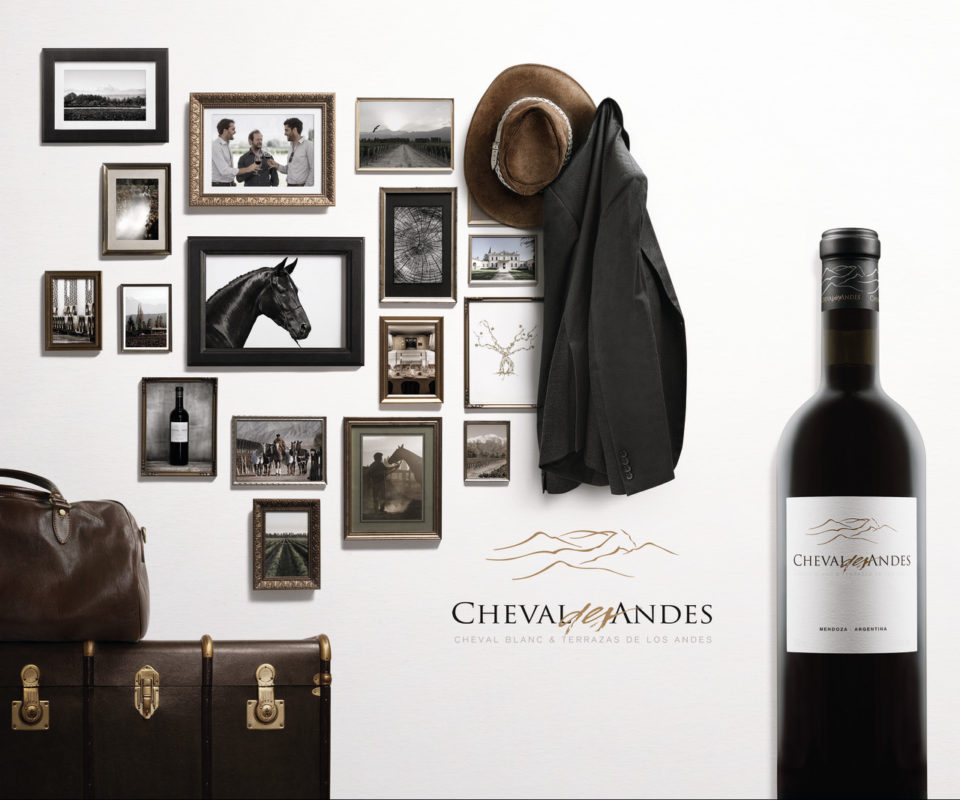 Cheval des Andes is the Argentine variant of the Chateau Cheval Blanc, the "Premier Grand Cru Classé A" from Saint Emilion (Bordeaux). The Mendoza winery is now launching its latest vintage wine, Cheval des Andes 2015.
Cheval des Andes is the result of the merging of Cheval Blanc, famous for its skills and know-how, and Terrazas de los Andes. The association was decided at the end of the 1990s, when Cheval Blanc was looking for a special international terroir. The initiative was based on the idea of establishing a link with the history of Saint-Emilion: Malbec, once one of the most important grape varieties in Saint-Emilion and Pomerol, was decimated by phylloxera in the 1860s, and Malbec was reborn in a refined form in Argentina. The Malbec renaissance in Argentina created an ambitious vision to break new ground in international wine making.
Cheval des Andes 2015 is a highly refined, subtle and distinguished vintage with a more Bordeaux style than previous vintages. "It is the most elegant and silky wine we have ever produced," explains Lorenzo Pasquini, Technical Manager & Winemaker at Cheval des Andes. The year 2015 also marks a change in the use of barrels. Increased use was made of 400 and 500 litre barrels, which make it possible to preserve the freshness of the fruit even more effectively.
Cheval des Andes is the Argentinean expression of the Château Cheval Blanc, Premier Grand Cru Classé A of Saint-Emilion, which goes beyond national origins and the 2015 vintage proves exactly that.
My tip: a juicy piece of beef from the same country is a wonderful accompaniment to this wine, but vegetarians can also combine the Malbec with, for example, a Vegi Tatar and will be seduced by the full taste.
Recipe: Vegan Tatar
Ingredients for 10 people (can also be halved)
4 eggplants
olive oil
2 cloves of garlic
4 sprigs thyme
2 tbsp soy sauce
pepper
Marinade
2 shallots, finely chopped and sautéed briefly in a little olive oil
3 pickles, cut into fine Brunoise
1 tbsp capers, chopped
150 g ketchup
10 g mustard
1 lemon
2 tbsp soy sauce
1 shot cognac
Szechuan pepper
Fresh chives, finely chopped
Fresh Liasco parsley, finely chopped
Red food coloring (as desired)
Preparation
Cut aubergines in half, cut into pieces, season with olive oil, soy sauce and pepper. Coat with garlic and sprinkle with fresh thyme. Cook in the oven at 180 degrees for about 1 hour until the "meat" is soft. Scrape out and chop finely. Drain in a sieve. For the marinade, mix shallots, pickled pickles, capers, ketchup and mustard in a bowl. Rub the zest of the lemon into it. Flavour with soy sauce, cognac and Szechuan pepper. Serve. Add any red food colouring. Fill into a ring and flatten and only then garnish, so it looks amazingly similar to a meat tatar. You can serve the tatar with baguette slices roasted with olive oil, thyme and garlic.
Enjoy trying it out for yourself!