Heavenly Krug, 360° experience Zurich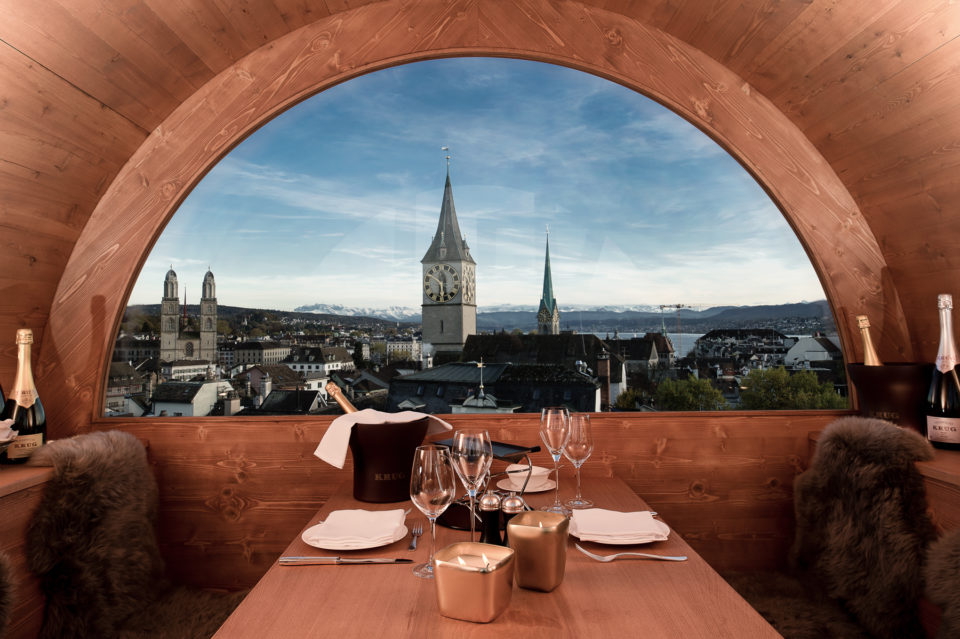 In collaboration with Widder Hotel, Krug literally carries the gourmands to the extremes. A very special culinary journey: enjoy a superb raclette in heavenly combination with the most famous creation of the Haus Krug: the Grande Cuvée.
The house is excited to announce their collaboration with the 5-star Hotel Widder in Zurich. An unforgettable experience was created specifically for this event: a dinner of a very special kind, on the "rooftop" of the hotel's very own penthouse, that sends the guests on a culinary journey, that melts the traditions of the two houses together.
With the spectacular 360° panoramic view of the festive illuminated Limmat-city, the menu becomes a unique specialty. The dinner takes place in a Krug Carnotzet – which is a common term used in the Romandie for small basement vault, in which one eats cheese fondue. In this rustic, but at the same time cozy atmosphere, a delicious raclette with the classic La Grande Cuvée of the Haus Krug is being served.
A simple but exclusive meal, made from the best ingredients – and only for a short time in Zurich. Reservations for the Krug Carnotzet can be made from November 2nd until December 21st 2017.
Raclette Menu:
Buffalotatar with mushrooms, warm potato-foam and truffles
*****
Raclette cheese assortment: classic, truffle cheese, goat cheese, lavender potatoes, silverskin onion, baby pickles
*****
Krugsorbet and litchi
My tip: 
To top off this heavenly Krug evening one can spend the night with a loved one at the penthouse suite under special conditions!