Hotel & Resort Bürgerstock – Above the Clouds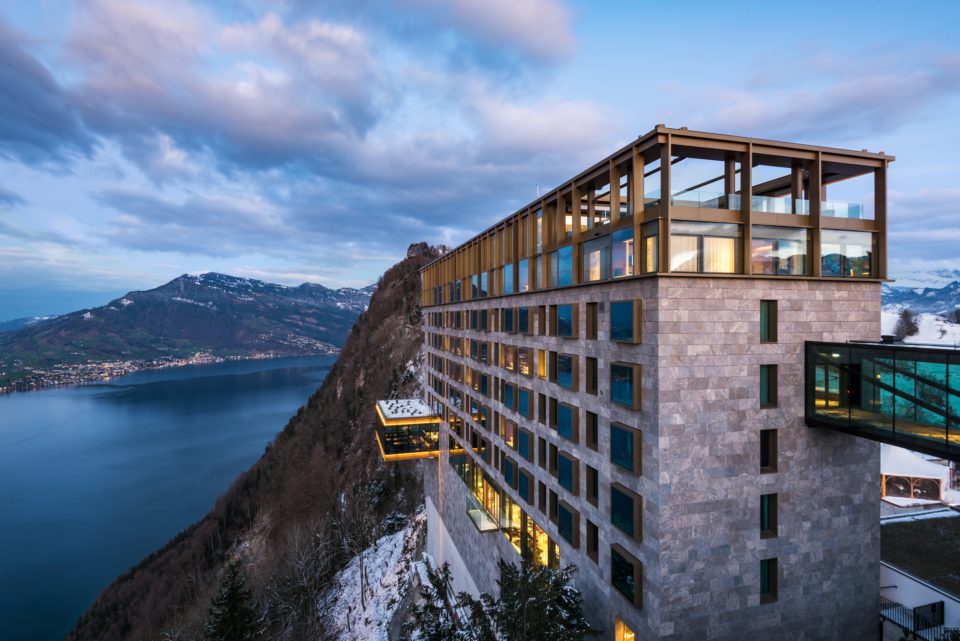 The view from the Bürgerstock down to Lake Lucerne is simply mind-blowing. The luxurious house offers everything to spend a relaxing time. Be it a weekend experience, business trip or vacation, the guest will find what he is looking for. There is no limit espessual to the culinary experience.
The Bürgerstock boasts an individual wine and champagne concept tailormade for each of the 10 restaurants, displaying the entire wine world with a focus on indigenous wines from different areas. A large selection of sparkling wines, especially vintage Champagne and Tête de Cuvée complete the offer. The house believes in offering wines at reasonable prices compared to competitors of the luxury segment.
Each of the 4 hotels boasts a wine cellar. With walls made of cork and a smart blend of timber shades, the show-cellar of Bürgerstock Hotel & Alpine Spa is worth a stop. In total, the resort offers up to 700 positions and approximately 30.000 bottles on stock.
The stay can be complemented with unforgettable experiences in nature in a variety of ways – whether with one of the many mountain railways, the e-bike or on a hiking tour. The spacious rooms and suites set new standards in the view and do not miss any amenities. The various spa landscapes leave nothing to be desired. Steam baths, panorama and aroma saunas, Kneipp baths, experience showers and various shower and bubble baths provide for relaxation and vitality. Daily scrubs and infusion ceremonies make the stay a pleasure for the senses.