Exclusive-Event with the big red Double Arrow and Mövenpick wine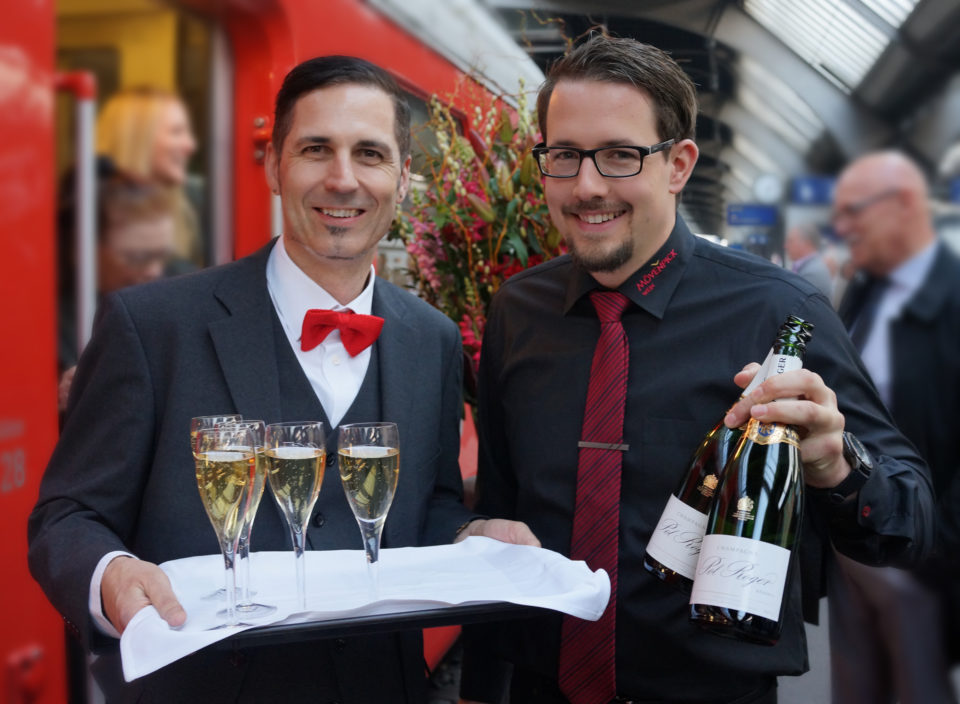 The Newsletters about wine tastings and classic dinners with wine accompaniments are piling up in my mailbox. Nowadays, in my opinion, it does not suffice to only plan to wine & dine and hope for the rounds to be fully booked. #Mövenpickwein offers some brand-new innovations. A dinner event on a train, but not just any train.
A crowd is forming on Monday evening at the central station in Zurich. An object on track number six is attracting pedestrian's curiosity.
A bright red Double Arrow from the year 1939, a piece of history and convincing Swiss workmanship is standing on the track. The train was named "Churchill", in honor of the British Prime Minister, who travelled through Switzerland in 1946 with the Double Arrow.
Mövenpick Wein Schweiz in collaboration with Elevtino, had the one-time chance to take a small circle of selected customers on a round trip to Schaffhausen in the direction of Konstanz over the Romanshorn. The brand stands for pure pleasure and it was an evening inspired by the Winston Churchill's quote:
"One should provide the body with good things such that the soul wants to live in it."
The superb 4 course menu was prepared by chef David Klocksin (Restaurant 20/20 by Mövenpick). In addition, seven high-quality wines from the world-famous vineyard Vega Sicilia, were being served. The Alvarez family bought the vineyard Bodegas Vega Sicilia in the eighties and produce Spanish top quality wines with attention to detail.
2015 Tokaji Furmint Dry Mandolas, Tokaj-Oremus, Grupo Vega Sicilia
2012 Pintia, Toro DO, Bodegas y Viñedos Pintia, Grupo Vega Sicilia
2012 Macán, Rioja DOCa, Bodegas BR & VS, Benjamin de Rothschild Vega Sicilia
2013 Alión, Ribera del Duero DO, Bodegas y Viñedos Alión, Grupo Vega Sicilia
2005 Vega Sicilia Unico, Ribera del Duero DO, Bodegas Vega Sicilia
2012 Valbuena 5°, Ribera del Duero DO
2010 Tokaji Aszú 3 Puttonyos, Tokaj-Oremus, Grupo Vega Sicilia
At the end of the journey head-enologist Gonzalo Iturriago de Juan personally signed a couple of his rarities, that were highly acclaimed by participants of this small trip.
A big thank you to the organizers of this exclusive event!